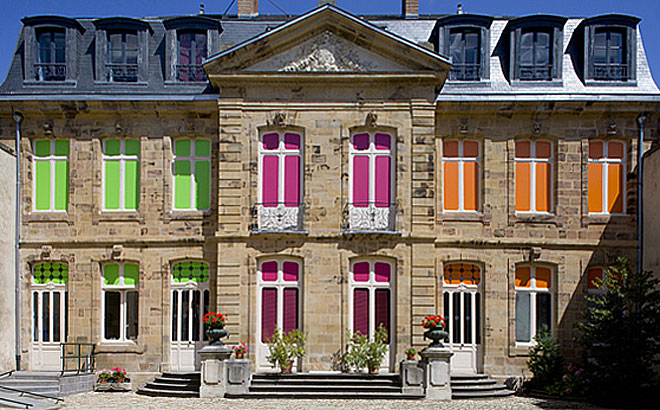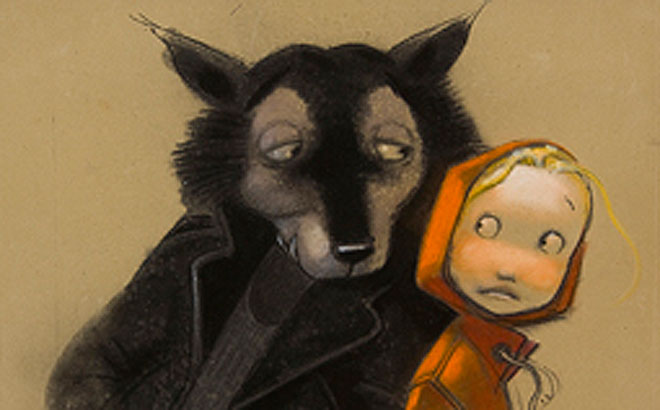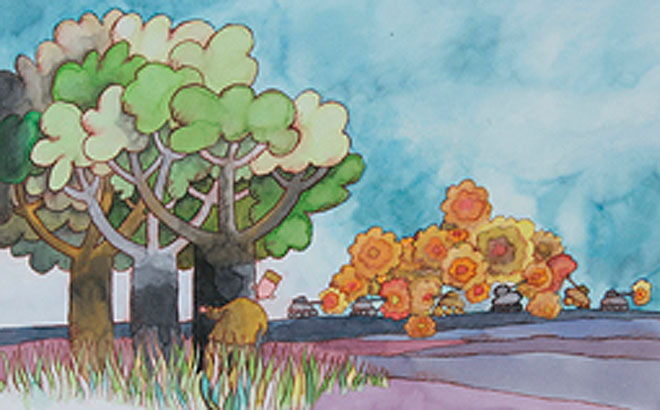 1. Mora town residence. © J.-P. Cordier CG 03. 2. Jean Claverie for Little Red Riding Hood , Albin Michel, 1994 al. CI. 3. Lionel Koechlin for a gardener memories The Colonel , 1973 , coll. CI .
The Youth Illustration Museum offers an immersion in the world of book illustration and more particularly children's books from the 19th century to the present day. Its large collection of original illustrations (nearly 4,500 pieces) makes it an exceptional place. The route allows you to discover the history of illustration, the techniques of creation, supplemented by temporary exhibitions.
EXHIBITION
The beautiful escape of Michelle Daufresne
Michelle Daufresne made a remarkable donation of more than 1,000 original plates, linked to the production of around forty books, with sketches, models… at the museum of youth illustration (mij), in 2019. With Letizia Galli, Georges Lemoine, Kersti Chaplet, May Angeli, Zaü… she is a great artist who is one of the generous donors of the mij.
Complete artist, illustrator, sculptor, painter, author, sensitive, laughing and free of tone, she began her career in 1950 and has never stopped creating since. His bibliography bears witness to his taste for freedom of style and expression, from one publisher to another, from la Semaine de Suzette to Père Castor, from Le Cerf to Éditions des Femmes, from Syros Alternatives to Seuil… and retraces both his personal and artistic journey, and a bit of the history of children's books.
"L'échappée belle" that the mij devotes to him gives an account of this story, is interested in the way in which his work speaks of his time, of social subjects, but also of major subjects (life, love, death, after…). It pays homage to the visual artist who never stopped observing nature and creating with pencil, ink, wash, watercolor, with collages on paper or on sandpaper, with feathers , with bark on a painted background, pearls, shavings, shells… Michelle Daufresne's work resembles her: elegantly free, combining smiles and seriousness and, with precision, fantasy and altruism.
He talks about his beginnings at Père Castor and his way of reporting on his time, then tackles the themes that run through his albums: friendship, family, big questions, a taste for freedom, sometimes despite conveniences and the almost insatiable bond with nature.
The museum mediation service has designed a dedicated course for the youngest, with the reading of albums, fun activity modules (observation games, motor skills games, multi-sensory space, etc.) and activities reserved for the very young. -small, identified over the rooms. The scenography for this exhibition was entrusted to Juliette Laval, visual designer in Dijon, who plays with colors and materials, giving each room its own visual identity and creating clear markers with colored signage.
from november 10, 2022 to june 18, 2023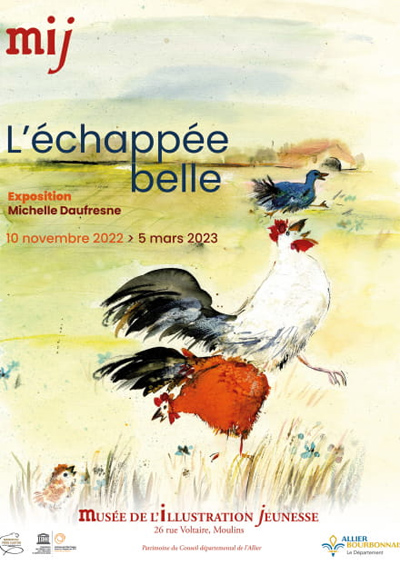 Useful information :
Days and times :
Open all year round from Tuesday to Sunday (except January 1 and 2, May 1 and December 25):
- From 10 a.m. to 12 p.m. and from 2 p.m. to 6 p.m. (only from 2 p.m. to 6 p.m. on Sundays and public holidays).
- Exceptional closing at 5 p.m. on December 24 and 31.
Address :
Musée de l'Illustration Jeunesse - MIJ
26 rue Voltaire
03000 MOULINS
Phone number :
04 70 35 72 58
E-mail address :
musees@allier.fr
Website :
musees.allier.fr
GPS coordinates :
latitude : 46.56696
longitude : 3.33369