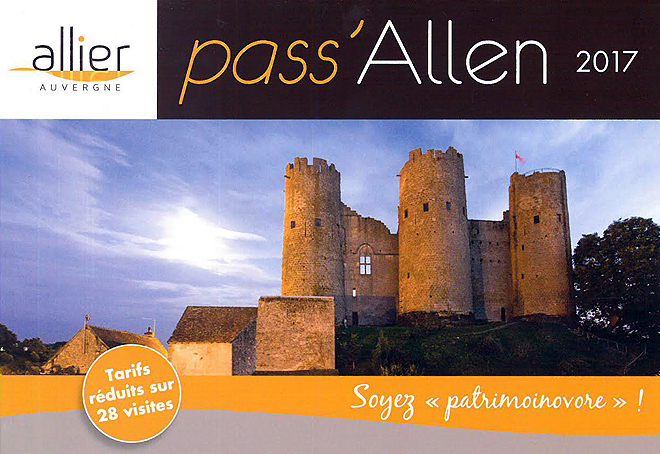 The launch of the 2017  Pass Allen took place on Thursday 30 March at the Souvigny Museum and Garden in the presence of Bernard Coulon Mayor of Saint-Pourçain-sur-Sioule and 3rd Vice-President in charge of Economic Development, Agriculture and Tourism And of Thermalism at the county council and of Jean-Claude Albucher Mayor of Souvigny and Vice-president delegated to tourism to the community of agglomeration of Moulins. The opportunity to unveil the new exhibition of the hall of the museum dedicated to the Pays de Souvigny and its brand new shop.
The presidents of the tourism offices of the department and the elected representatives representing the municipalities were able to discover the new Pass Allen presented by Mrs. Véronique Dufréchoux, director of the Departmental Committee of Tourism.
Pass allen is a cultural passport that encourages tourists to discover the sites of the Allier.
29 sites are represented, classified by themes like natural sciences, archeology in Bourbonnais or arts and shows.
On presentation of the passport, upon arrival in one of the partners' sites of the operation, the first entry at full rate allows to benefit from preferential rates on all the visits. The Allen passport is distributed free of charge by tourist sites and offices.
More information from the tourist offices of Allier, the partner sites of the operation and on the site allier-auvergne-tourisme.com.