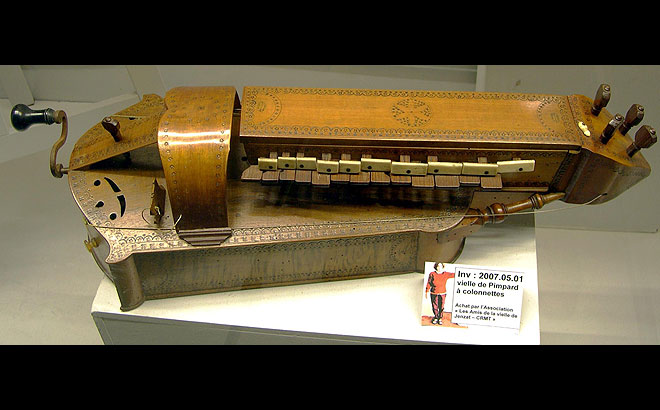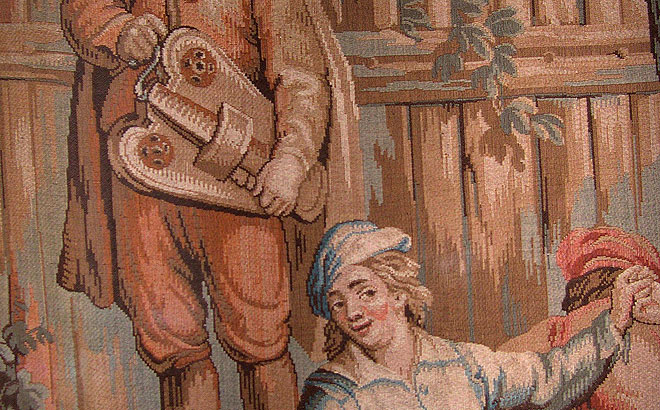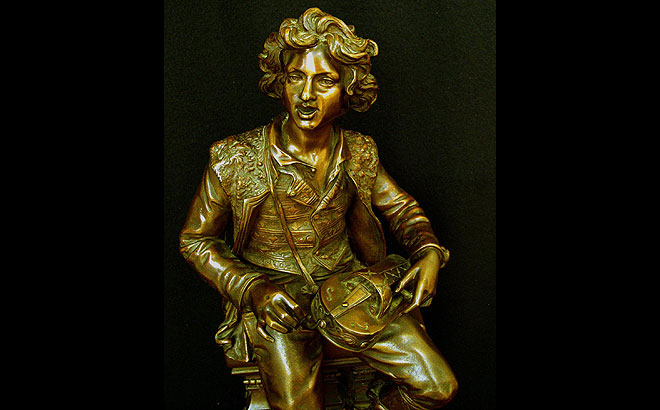 1. Hurdy columns (copy old) by Claude PIMPARD , luthier in Jenzat ( 1863-1931 ). @Jenzat,Stringed-instrument maker's House (C.C.) 2. Player and old dancers " Tapestry. North of France. 19th century. @Jenzat,Stringed-instrument maker's House (C.C.) 3. " Player old Piedmont " Bronze on marble base by Jean Didier DEBUT Moulins ( 1824) -Paris (1893). @Jenzat,Stringed-instrument maker's House (C.C.)
The Maison du luthier / Museum tells the story of the luthiers of Jenzat, makers of hurdy-gurdies and bagpipes, repairers of accordions, saxophones, flutes, drums, merchants of clarinets, violins and mandolins in the Sioule valley, in the heart of Bourbonnais. The museum presents and preserves the instrumental heritage of traditional French music. It occupies the former house of Jacques Antoine Pajot (1845-1920), located in the quarter of the hurdy-gurdy makers in Jenzat: the world capital of the hurdy-gurdy. Collection of hurdy-gurdies, bagpipes and other instruments; collection of tools used by luthiers; hurdy-gurdy workshop; brass workshop. Study room ; documentary terminals; auditorium with films on the bill and the game of the hurdy-gurdy. Hurdy-gurdies have been made in Jenzat since 1795.
EXHIBITION
Traditional musical instruments at Universal Exhibitions
The exhibition emphasizes the presence of music from the oral tradition at the universal exhibitions in Paris. Pianos and saxophones have often hidden the forest of gypsy violins, Javanese gamelans and Jenzat hurdy-gurdies. The Breton binious, the bagpipes of Bourbonnais, the tambourines of Provence surprised the public alongside the Romanian lautaris and the mandolin orchestras.
Featured: the hurdy-gurdy exhibited by Jean-Baptiste Pajot at the Universal Exhibition in Paris in 1855: a true masterpiece of lutherie.
from june 25, 2022 to september 25, 2022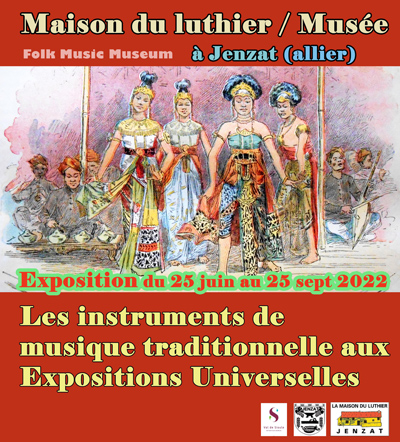 Useful information :
Days and times :
Open from June 1 to September 30:
In June and September only on weekends from 2:30 p.m. to 6:30 p.m.
In July and August, Monday to Wednesday + weekends from 2:30 p.m. to 6:30 p.m.
Visits by appointment for groups.
Address :
Maison du Luthier - Musée
8 rue des luthiers
03800 JENZAT
Phone number :
06 80 80 35 27
E-mail address :
musee-luthiers.jenzat@wanadoo.fr
Website :
maison-luthier-jenzat.fr
GPS coordinates :
latitude : 46.16492
longitude : 3.19557