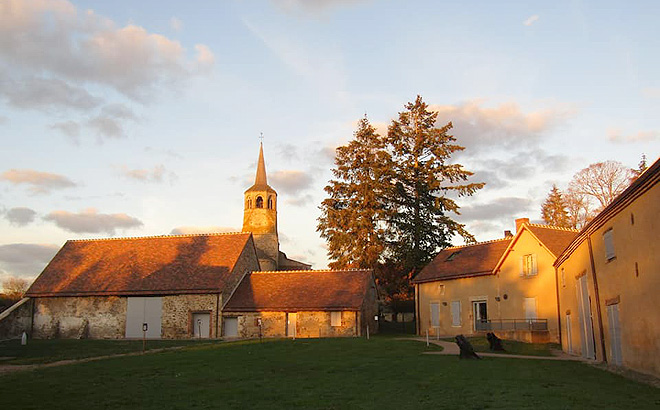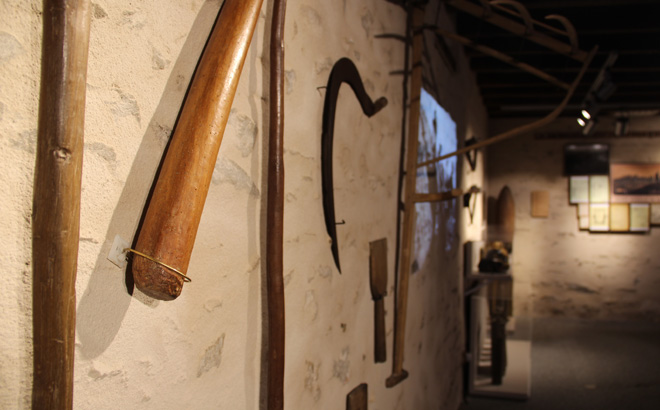 1. 2. 3. Different views of the Historial du Paysan Soldat.
Located in a former Bourbonnais farmhouse in the heart of the village of Fleuriel, this unique museum space is devoted to the relations between the peasant world and the Great War, more particularly in Bourbonnais territory.
EXHIBITION
Gendarmes in the Great War
When the First World War broke out in early August 1914, the gendarmes became the effective architects of general mobilization. As for the border brigades, they became forward sentries against the German invasion. However, the weapon does not count, as it may have been in previous conflicts, among the combat units of the French army. Its role is different. And although painful, obscure and thankless, it is nonetheless necessary: ​​from the police of the battlefield to that of the cantonment through the securing of the access roads, the roles of the provost are multiple.
To this, it is worth recalling the voluntary commitments of many gendarmes in the combat troops and the missions of maintaining public order far from the front where the gendarmes are the guarantors of the safety of the families left alone in the rear.
This exhibition was produced with the help of the Association of Collectors for the Safeguarding of the Heritage of the Maréchaussée at the Gendarmerie and the Gendarmerie School of Montluçon.
from april 08, 2023 to november 11, 2023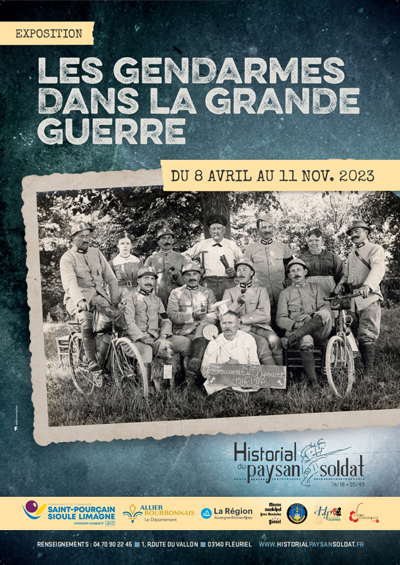 EXHIBITION
The year 1943
Resistance. The deportation. The French state.
Through a selection of period objects and documents, the Mémorial du Corgenay association looks back on the year 1943, oscillating between the tragedy of the occupation and the hope carried by a resistance which is organized and s intensifies.
from april 08, 2023 to november 11, 2023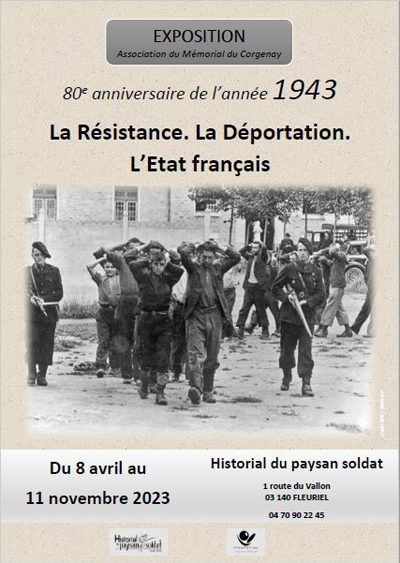 Useful information :
Days and times :
Open from April 8 to November 11:
- Outside school holidays, every day except Tuesday from 2 p.m. to 6 p.m.
- During school holidays (zone A), Monday, Wednesday, Thursday and Friday from 10 a.m. to 12 p.m. and from 2 p.m. to 6 p.m.; weekends and public holidays from 2 p.m. to 6 p.m.
- Possibility of visits for groups, by reservation, from February 15 to December 15.
Address :
1 route du Vallon
03140 FLEURIEL
Phone number :
04 70 90 22 45
06 15 60 90 88
E-mail address :
accueil.historialfleuriel@ccspsl.fr
Website :
historialpaysansoldat.fr
GPS coordinates :
latitude : 46.28187
longitude : 3.17882