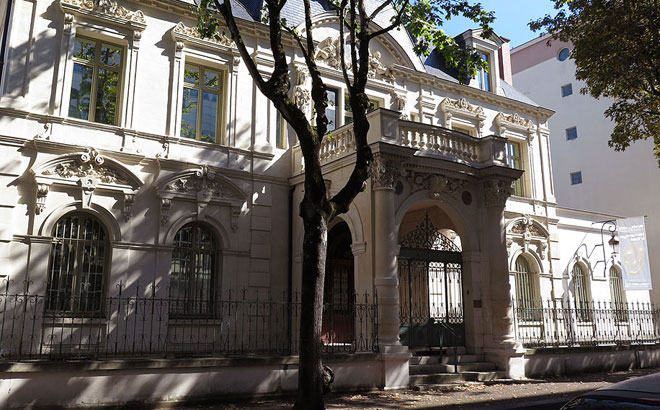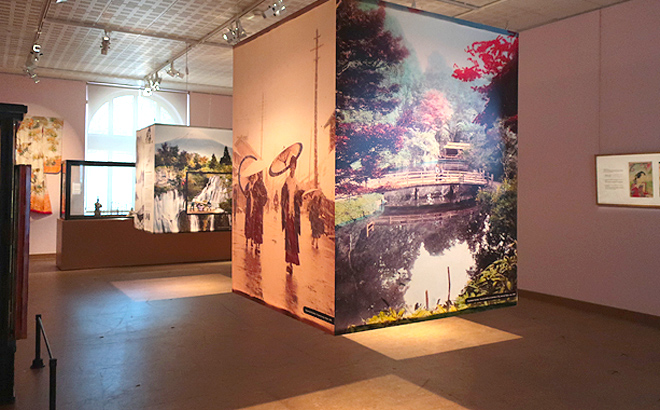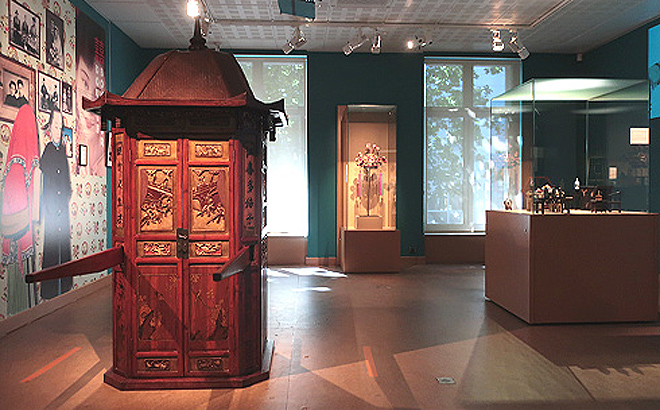 1. The museum 2. View of the exhibition "Travel" 3. View of the exhibition "Double Happiness"
Museum housed in a former 19th century spa establishment. Fine Arts, photography, sacred art, ethnography, music, contemporary creation: the Museum of African and Asian Arts illustrates the artistic diversity of the civilizations of Africa and Asia but also of Oceania and America. Every year, temporary exhibitions tell the story of the world of yesterday and today.
EXHIBITION
DOGON – Michel and Sophie Bohbot Collection
Works of art from the mythical Bandiagara cliff in Mali.
Masks carrying the sacred, beautiful locks, statuettes of ancestors with a rain patina, a magnificent collection of works from the Dogon civilization.
from april 28, 2023 to october 31, 2023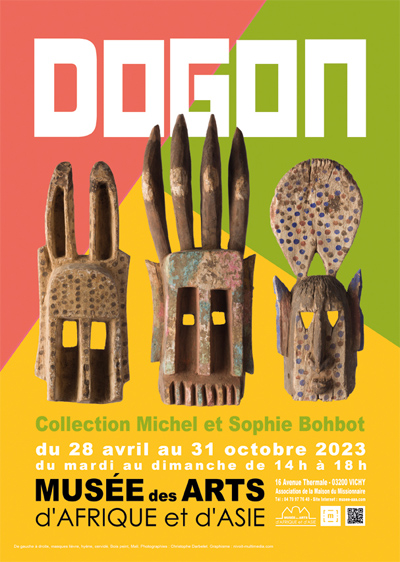 EXHIBITION
The museum at 100 years old
In 1922, Henri Watthé created the association La Maison du Missionnaire. Its goals: to provide accommodation and obtain free spa treatments for Catholic missionaries. This creation is part of a broader historical context: since the 19th century, the great missionary orders have sent men and women to carry the Christian message throughout the world. Vichy was then a cosmopolitan spa capital where missionaries, civil servants, soldiers and personalities from the colonial empire rubbed shoulders. At the request of the metropolis, the missionaries collect objects. This is the birth of missionary museums. In 1922, the museum is the showcase of the association.
The objects serve the discourse of the time: show the work of the missionaries and convince visitors to help the work. For the public, it is sometimes the first contact with the objects of unknown populations. The collection fund is made up of 1922 to 1940 with 4,000 pieces and natural specimens.
The exhibition is an evocation of the first installations of the museum.
from april 28, 2023 to october 31, 2023
EXHIBITION
Tuaregs, nomadic objects
Since its creation, the museum has kept Tuareg collections, in particular old leather, characteristic of the art of this culture. Thanks to a collaboration with the Musée des Confluences in Lyon, the museum had the opportunity to receive a fine donation of jewelery from Niger from Mr. and Mrs. Burner, Masnat association.
All of these works allow us to admire a culture of nomadic, refined origin. Each object is essential and carries the Tuareg values: the sobriety of the forms, the balance of the decorations correspond to an ideal of restraint and nobility in society. It is a journey in the immensity of the Sahara through the works of three countries, Algeria, Mali, Niger.
The Kel-Tamasheq: Tuareg is not the exact name, they call themselves Kel-Tamasheq, those of the Tamasheq language. Tuareg is a French name, used since the 19th century. It would come from the Arabic targa, place of origin of certain groups in Libya.
from april 28, 2023 to october 31, 2023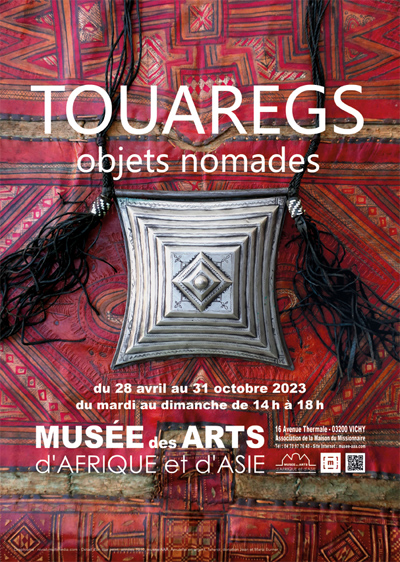 Useful information :
Days and times :
Open from April 28 to October 31:
- Every day, except Monday, from 2 p.m. to 6 p.m.
Address :
Musée des Arts d'Afrique et d'Asie
16 avenue Thermale
03200 VICHY
Phone number :
04 70 97 76 40
E-mail address :
musee-aaa@wanadoo.fr
Website :
musee-aaa.com
GPS coordinates :
latitude : 46.12812
longitude : 3.42003