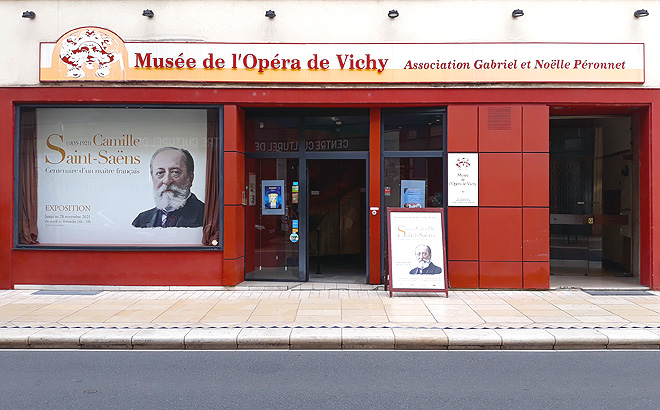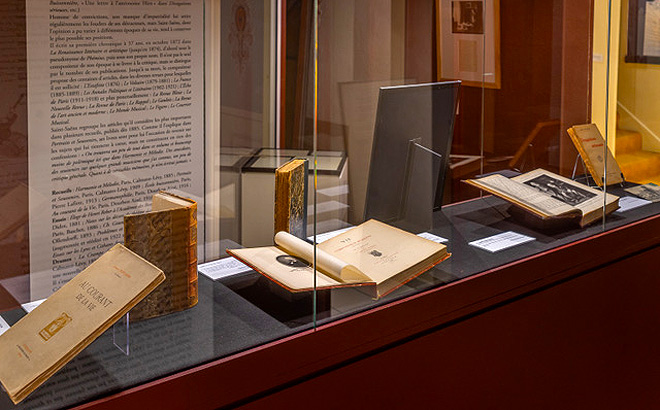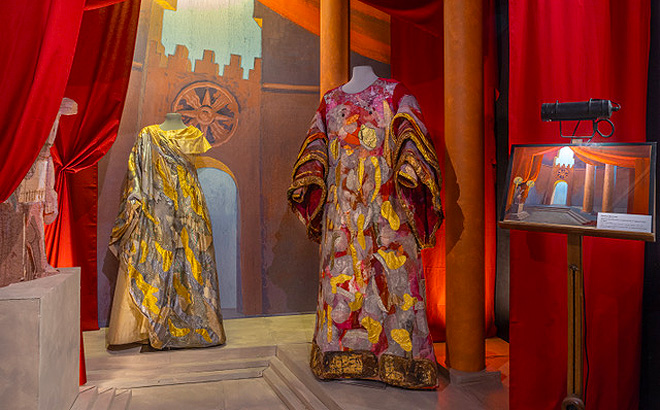 1. The Vichy Opera museum. 2. Exhibition "Camille Saint-Saëns" 2021. 3. Exhibition "Camille Saint-Saëns" 2021.
Created in 2002 thanks to the Noëlle and Gabriel Peronnet Foundation, the Opera Museum brings together, preserves and showcases the archives of the Théâtre du Grand Casino de Vichy (now Palais des Congrès-Opéra). Posters, photographs, costumes, projects and sets, programs and newspapers tell the story of an exceptional artistic life.
The only theater museum in the province, it is considered by the National Library as one of the richest collections in Europe by the quality, quantity and rarity of the archives it holds. These archives were rather difficult to find, collect and organize from the end of 1987 until the installation of the museum in 2001-2002.
EXHIBITION
Jean-Pierre Rampal (1922-2000) and the soloists of the Orchestra of the Grand Casino de Vichy
What could be more natural, on the occasion of the centenary of the birth of Jean-Pierre Rampal, than to devote an exhibition to him here, in Vichy, where he made his debut as a soloist? One of the most emblematic virtuosos of the Grand Casino Orchestra, he still fascinates today with his art and with what the musical world owes him.
But do we remember that year after year, the lists of musicians making up the most prestigious of summer formations reveal a number of familiar names on the verge of extraordinary careers? So we wanted to associate with this tribute to Jean-Pierre Rampal the soloists of the Vichy Opera as a whole through some of the most outstanding personalities from the Belle Époque to the 1960s. We will find many exceptional artists there. , the glorious period between the wars and then the elite of the great virtuosos of the modern era – and among them another great French flautist in the person of Maxence Larrieu, whom Vichy will have the pleasure of welcoming this autumn .
In short, a whole historical journey to rediscover the actors of a fabulous musical richness – in fact a golden age of almost a century! Denis Verroust, Curator of the exhibition
from may 21, 2022 to november 27, 2022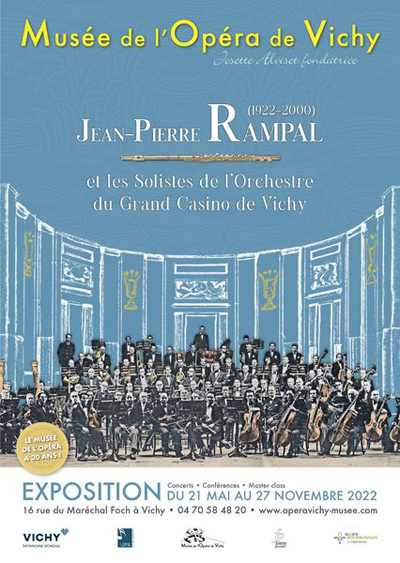 Useful information :
Days and times :
Open from May 21 to November 27:
Every day except Mondays and public holidays (Ascension Thursday, Whit Monday, July 14, August 15, November 1 and November 11 from 2 p.m. to 6 p.m.
Address :
MUSÉE DE L'OPÉRA
16 rue Maréchal Foch
03200 VICHY
Phone number :
04 70 58 48 20
E-mail address :
musee.opera.vichy@gmail.com
Website :
www.operavichy-musee.com
GPS coordinates :
latitude : 46.12246
longitude : 3.42342